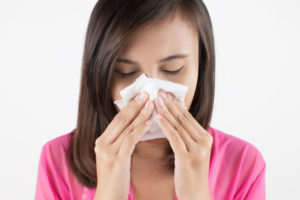 Flu season is almost upon us! While no one wants to get the flu, many of us will suffer from it this year. Here's what you need to know to avoid it if you can and get over it quickly if you can't.
Preventing the Flu
One of the best ways to avoid getting the flu is to get your flu shot early in the flu season. Most doctors offices, hospitals, urgent cares, and other sorts of clinics offer these shots. Many of them offer the shot for a small flat fee, or they will bill your insurance company if you have one. Make sure you know how much your flu shot is going to cost you before you get it by calling your insurance company or the location where you plan to get your treatment.
The flu shot contains dead or dormant forms of the strains of flu that epidemiologists believe will be the most common during a particular year. They inject these into you so that you can make antibodies against these strains before you get exposed to the flu. It takes 2-3 weeks to fully immunize you against the strains of flu that the shot contains, so you'll want to get your shot well ahead of the start of flu season, or as early as possible in it.
Sometimes, the epidemiologists who choose the strains are right. Other times, they are partially right or completely wrong. However, getting the flu shot still gives you the best chance at avoiding the flu altogether. Even if they only get it partially right, you may not get as sick as you would have otherwise.
You can also avoid the flu by washing your hands regularly and by keeping them away from your face. If you are around someone who has the flu or you know you are getting exposed to it, wash your hands for 30-60 seconds every 30-60 minutes. You can also use a hand sanitizer, though many of these are not as reliable as soap and water. In between washes or sanitizations, avoid touching your eyes, nose, mouth, or other mucous membranes, as this is one of the most effective ways of passing any flu virus that is on your hands to the rest of your body.
Get Better Fast
If you do get the flu, go to the doctor as soon as you can. They can usually test you for the most common strains of flu. If you test positive and you are within the first day or two of your virus, your doctor may be able to prescribe anti-viral medications to help you fight it off. You can pick these up at any pharmacy and use your Easy Drug Card to get a discount at many locations. Our free medication savings card offers discounts on several anti-viral medications, including Oseltamivir discounts and more. Taking these according to the instructions will help you get over the flu faster than you otherwise would.
You should also rest when you have the flu. You may feel tempted to try and get things done, especially when you start to feel better, but the flu can be a tricky illness. It can return, either as a worsening of symptoms or as a secondary bacterial infection. Make sure you get all the way over the flu before you try to go back to your normal life. Sure, you may miss some things, but that's better than staying sick for a long time.
Getting the flu is a bummer but you don't have to let it get you down. Avoid it if you can, by getting a flu shot now, or prepare now to take care of yourself if you do get exposed later.