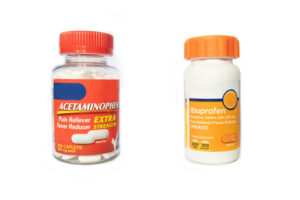 Most people these days have medicine cabinets crammed full of medications they've needed at one time or another. Streamline your medicine cabinet by cleaning out all the old medicine and making sure you have each of the following.
1. A Thermometer
This is often overlooked but plays an important part in making sure you stay healthy. Fevers can crop up at inopportune moments, and you never feel up to going to the store to et one when they do. Make sure you keep one on hand so you can assess the severity of an illness quickly.
2. Painkillers
You can choose your favorite painkiller, or keep several on hand. Either way, make sure they are close by so you don't have to to out when you're in pain and get some. Many people prefer acetaminophen for fevers and ibuprofen for pain, but you can choose whatever you want.
3. Bandages
Keep these on hand in a variety of sizes and shapes. A box of multiple sizes of bandaids is a great place to start, though you may also want to have sterile pads, gauze, and tape, especially if someone in your home is prone to injuries.
4. An Antiseptic Cream
You'll want to put this on any open wounds before you cover them, to do your best to avoid infection. Make sure your cream is antibacterial and anti-microbial, and that it hasn't passed its expiration date! You may also want to get one that reduces pain, especially if you have children in the home.
5. An Antihistamine
Benadryl is the most common one of these. Keep it on hand for any allergic emergencies that may occur. If someone is having a significant allergic reaction, there may not be time to go to the store and get this before they need medical intervention. Keep on hand, too, any antihistamines that you need seasonally or that you take every day.
6. Sunscreen
Everyone, no matter how much of tan they have or how dark their skin is already, needs to wear sunscreen when the plan to experience prolonged exposure to the sun. Make this more likely to happen by keeping the sunscreen on hand, in your medicine cabinet.
7. Anti-Itch Cream
Hives can itch unbearably, so keep cream on hand to deal with them. Even if you've never struggled with skin allergies or sensitivities in your life, this cream can be a lifesaver if you accidentally get exposed to poison ivy or poison oak, or if you suddenly find something that you're allergic to.
8. Cold Medicine
Nearly everyone has a go-to cold remedy that they like to use. Keep yours stocked up in your medicine cabinet, so you can begin treating your cold as soon as you feel the symptoms. Whether your preferred remedy is natural or medical, having some on-hand will help you feel better, faster.
9. Stomach Medicine
There's not much that can disrupt your life like an upset stomach. Cut the ill effects of a stomach ache off at the pass by keeping your preferred medication on hand. You know your body the best, so stock up on the medications that help you the most when your stomach isn't well.
10. An Ice Pack
Your medicine cabinet isn't complete without an ice pack. Get the kind that you can shake or crack to release cold, so you'll always have something to put on an injury. You may also want to keep a pack in your freezer, or place one nearby that you can freeze as soon as you need it.
Stock your medicine cabinet and rest assured that you'll be prepared for any basic medical need!