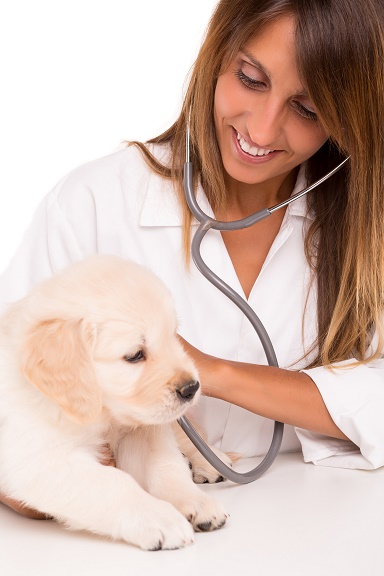 Pet owners spend over $7 billion a year on prescription drugs for their beloved Fluffy and Fido. Half of all pet medication expenditures are for prescription and over-the-counter flea, tick and heartworm products.
Buying Meds from your Vet
According to Consumer Reports, two-thirds of pet owners purchase their pet medications from their vets even though many popular medications are available at retail drugstores like Walgreens, CVS, Target and many others.
"That's a mistake," the magazine wrote in its August 2011 issue, "because vets' markups over wholesale start at 100 percent and frequently hit 160 percent, plus a $5 to $15 dispensing fee."
Many pet owners are simply unaware that they don't have to buy the medications from the vet who prescribed them.
Congress is even looking into the practice as well. They introduced the Fairness to Pet Owners Act of 2014* in February 2014. The bill will require vets to write an actual prescription and allow the pet owner to fill the prescriptions elsewhere.
The bill, supported by the American Society for the Prevention of Cruelty to Animals, directs the Federal Trade Commission (FTC) to require prescribers of animal drugs to verify prescriptions and provide copies of prescriptions to pet owners, pet owner designees, and pharmacies without the prescriber demanding payment or establishing other conditions. These requirements apply to medications for a domesticated household animal that consumers are not allowed to purchase without a prescription.
Not surprisingly, vets have rallied against the federal mandate, calling it unwarranted.
"We are not aware of consumers widely being denied their requests for prescriptions," the American Veterinary Medical Association said in its filing to the FTC. "A veterinarian who denies such a request risks alienating clients and harming his or her practice."
6 Ways to Save
If you'd like to save money on your pet's medications, try some of these savings tips!
Ask your vet to write a prescription that will let you buy the pet medication elsewhere. If they're not willing to write you a prescription, consider finding another vet.
Get a free prescription drug card to save money at your local pharmacy on your pet's medication. The pharmacy will save the drug card information in their system so you can use it each time you fill a prescription for Fluffy, Fido and Mr. Whiskers.
If your pet needs a medication for preventive care or for a long-term chronic condition, ask the vet for a prescription that you can fill at a pharmacy. You don't need to fill the prescription at your vet.
Ask your vet whether there's a less expensive, human drug equivalent. There are many less expensive alternatives that achieve the same results than the more expensive, animal-only antibiotics. The savings can be dramatic.
If the prescribed drug is also used to treat humans, shop around.
If you buy online, order from one of the 18 sites that belong to Vet-VIPPS accredited pharmacies. Vet-VIPPS stands for Veterinary-Verified Internet Pharmacy Practice Sites, a program run by the National Association of Boards of Pharmacy. These sites comply with federal and state licensing requirements and quality assurance.
So the next time your beloved pet needs medications, consider the savings opportunities available to you when you look beyond your vet.
* Source: https://www.congress.gov/bill/113th-congress/house-bill/4023/text