Organic
When given the choice, we would probably all choose organic over conventional produce, but do we really know why? Who knows what "organic" means, anyway?
According to the U.S. Department of Agriculture (USDA), food products must meet federal standards for production, processing, and certification under the Organic Food Production Act of 1990. The National Organic Program oversees these standards, which have been in full effect since October 2002. Organic foods have "been produced through approved methods that integrate cultural, biological, and mechanical practices that foster cycling of resources, promote ecological balance, and conserve biodiversity." Furthermore, for a food to meet national organic standards, there can be no use of synthetic fertilizers and pesticides, sewage, sludge, irradiation or genetic engineering.
Many question the nutrient difference between conventional and organic produce.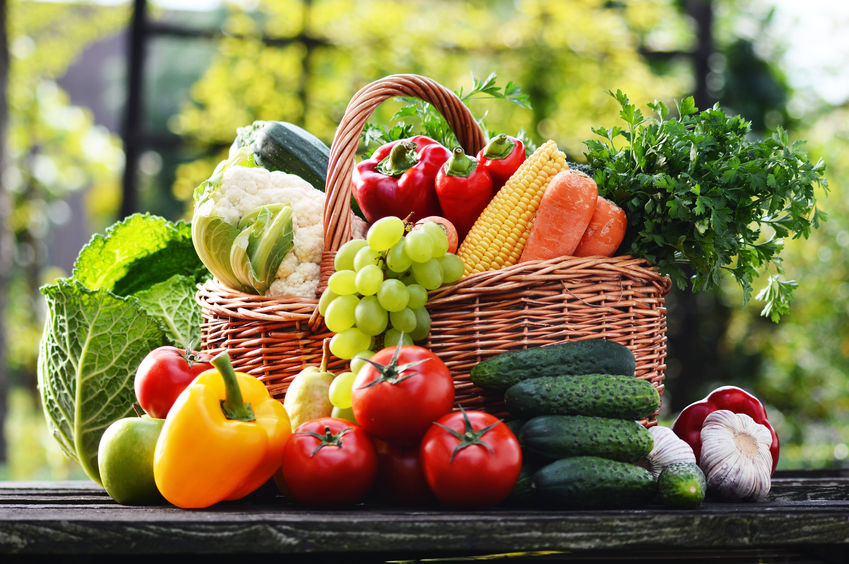 Is organic healthier/more nutritious?
Stanford University researchers conducted a study to find out! Their findings were published in the September 2012 issue of Annals of Internal Medicine. They reported that aside from higher phosphorus levels found in organic vs. conventional produce, literature lacks sufficient evidence showing nutrient superiority in organic produce.
Similar results were found in a meta-analysis conducted by the British Nutrition Foundation. They found no overall differences in the nutrient profiles of organic and conventional foods. However, there was evidence of higher levels of vitamin C in some organically grown produce, such as potatoes and dark, leafy greens.
Another study conducted by Newcastle University Researchers in London found organic produce to be higher in "secondary metabolites", or antioxidants, which enable organic produce to fight of disease and pests naturally without the assistance of pesticides. They attribute this natural disease-fighting ability to increased benefits in fending off cancer and cardiovascular disease in humans. These are promising findings, but long-term human studies haven't been conducted to validate long-term benefits.
The confirmed difference with organic lies in the pesticide content.
According to Today's Dietitian, evidence for some of the benefits of organic foods can be found in the Stanford study. The researchers reported evidence of pesticide residues in 38% of conventional foods vs 7% of organics. In simplified terms, organic fruits and vegetables had a 30% lower risk of pesticide contamination than conventional produce.
Why do pesticides matter?
According to the Pesticide Action Network North America, exposure to chemicals stays with us throughout our lives—beginning with those we're exposed to in the womb. These chemicals come from toxins in the air, soil, cleaning products and those used in conventional farming. Pesticide residues build up over time and can be stressful to the body.
The Environmental Working Group states that pesticides are toxic by design. "They are created expressly to kill living organisms — insects, plants and fungi that are considered "pests." Many pesticides pose health dangers to people. These risks have been confirmed by independent research scientists and physicians across the world."
Cancer (particularly of the brain and prostate), birth defects, spontaneous abortion, premature birth, gestational diabetes, insulin resistance, obesity, type 2 diabetes, and (learning disabilities have been found, in many studies, to result from increased pesticide exposure.
Moreover,  Philip Landrigan, MD, director of Mount Sinai's Center for Children's Health and the Environment in New York, proposed that pesticide exposures in early life act as triggers of later illness such as Parkinson's and Alzheimers. This is likely as a result of a reduction in the number of cells in essential regions of the brain to below the level needed to maintain function later in life.
While the occasional pepper or handful of strawberries won't harm you, if you eat your 9-11 servings per day (as you should), it's better to chose ones that aren't loaded with pesticides. Infants, children, and pregnant women should be the most cautious with their consumption of pesticide-containing foods, as they (or their un-born child) are in crucial stages of brain-development.
Other considerations:

Sustainability : According Sharon Palmer, Registered Dietitian and author of The Plant Powered Diet, organic production is more sustainable; it uses less energy, produces fewer greenhouse gas emissions, and creates healthier soils." It also helps small farmers.
Taste: Though studies are limited, those that have been published show that organic produce is often judged to be tastier and more pleasing than conventional produce. This is reported to be a result of the lower level of nitrates that is commonly found in organic produce as opposed to their conventional counterparts.
Ok, so what if I wash my produce? Will that reduce pesticide levels?
Great question! For this answer, I went to the Environmental Working Group's (EWG) website. They are the ones who conduct studies on produce to determine pesticide levels. They report that when testing produce, they taste it in the same way that it would be consumed normally. This means, if we peel a banana to eat it, they would peel the banana before testing. Similarly, they thoroughly wash all produce before testing, so the pesticide levels do account for washing. They don't test produce using produces washes but they do state that, "Since some plants absorb pesticides systemically, a produce wash would have limited effect."
The Bottom Line
• If you can't afford to buy all organic fruits and vegetables, do so for those that are the most contaminated. See the Environmental Working Group's Shopper's Guide to Pesticides in Produce, or at least try to purchase organic versions of the produce that you consume the most of.
• Buy in-season, locally grown organic produce, which is often comparable in price to conventional produce. Shop at your local farmers market or purchase from community-supported agriculture programs (CSAs). Often, they have produce that may be grown in an organic fashion but not necessarily with the certification.
• Grow your own organically produced fruits and vegetables! Tomatoes, lettuce, peppers, and kale are just a few examples of produce that can easily be grown in your back yard. You can freeze and/or can what you harvest for later use (especially in the winter).
• Purchase frozen organic fruits and vegetables. This way, you won't have to worry about them going bad if you don't eat them fast enough! Costco offers a variety of reasonably priced organic fruits and vegetables that are great to have on hand.
What Really Matters

Don't obsess about pesticides. The EWG says, "The health benefits of a diet rich in fruits and vegetables outweigh the risks of pesticide exposure." As I always say, it is essential for optimal health to enjoy a wide variety whole, natural foods, especially fruits and vegetables. Start by making yourself more aware of the pesticide content in various foods. If something that you consume on a regular basis is on the list, try to either replace it with something with a lower pesticide count or purchase the organic version when able. ☺
Load up on fruits and veggies from the "Clean 15" list below!
For your reference, here is the 2016 "Dirty Dozen" EWG list of the produce with the highest pesticide count.
Strawberries

Apples

Nectarines

Peaches

Celery

Grapes

Cherries

Spinach

Tomatoes

Sweet Bell Peppers

Cherry Tomatoes

Cucumbers
For peace of mind…here are the ones with the lowest pesticide count "Clean 15":
Avocados

Sweet Corn

Pineapples

Cabbage

Sweet Peas (frozen)

Onions

Asparagus

Mangos

Papaya

Kiwi

Eggplant

Honeydew

Grapefruit

Cantaloupe

Cauliflower
References:
https://www.eufic.org/en/food-production/article/are-organic-foods-safer-or-healthier-than-conventional-alternatives
https://www.ewg.org/foodnews/faq.php#question_3
http://www.todaysdietitian.com/newarchives/070113p28.shtml
http://www.todaysdietitian.com/newarchives/040715p40.shtml
http://www.todaysdietitian.com/newarchives/tdapril2008pg30.shtml