New needle length recommendations for insulin injection
Diabetes – uncontrolled blood sugar –  is a common condition , affecting  30 million Americans. Management of blood sugar has become part of many's daily routine. Proper control of blood sugar is important for reducing long term complications associated with diabetes and worsening of other conditions, such as heart and kidney disease.
Insulin is a commonplace therapy of diabetic patients. When a person is administering insulin, the popular options are using vial insulin or using a pen delivery system. Administration depends on the type of insulin a prescriber chooses, determined by price, convenience, and insulin potency. Pen devices are becoming more common due to their ease of use. Vials can be less expensive depending on the type of insulin, but are less user-friendly. Both options require the use of some form of needle in order to administer the insulin. The length of the needle has been a point of contention recently.
When using a pen injection device, the needle length should be 4mm. Using a vial, the needle length should be 6mm. The difference between these lengths is due to the fact that vials have a stopper while pens do not. The extra length accounts for going through a stopper to draw up the insulin dose. A pen needle screws on directly to the end of the pen device thus does not need the extra length.
Preconceptions regarding skin thickness should not affect the length of a needle.
Skin thickness does not significantly vary between patients, regardless of weight. In proper injections, insulin should be injected into fat tissue.
Since skin thickness does not vary much between people of different weight, the needle length also shouldn't vary.
The only population that might require different injection technique would be for very thin patients.
These patients while not requiring a different length needle, should use a skin folding technique to allow more room for the needle.
This is also necessary in children under 6 years old for similar reasoning. Your doctor and pharmacist should be able to provide detailed information regarding whether you need to use this method and how to properly do it.
Why should we use the shortest needle possible?
Longer needles lead to more pain and increase the  likelihood of improper injection. If the needle enters muscle, it will likely hurt when the insulin is injected. Also, this will cause the insulin to not distribute properly in the body causing glucose variations. Accidental injection into the muscle can cause rapid drops in blood sugar or increases in blood sugar. This makes it very difficult to reach goal glucose levels. It can also cause a prescriber to adjust insulin dosing unnecessarily due to poor glucose control caused by incorrect injection .
Why are 8mm needles still prescribed by doctors?
The main reason this occurs is strictly because of habit. The old recommendations allowed 8mm needles to be prescribed as a grab all for both pen devices and vials. Many prescribers are not yet familiar with the new recommendations for needle length. Of late, new studies have been conducted to determine whether there are variations in skin thickness and if there are risks of the longer needle length. Current recommendation state shorter needles provide better drug administration and less pain during injection.
If you notice you are on a needle longer than 6mm and are using a vial insulin or a needle longer than 4mm when using a pen insulin, talk to your prescriber or pharmacist about switching. If you have any questions regarding proper insulin injection technique or needle length, contact your prescriber or community pharmacist for more information.
References:
http://www.diabetes.org/
https://www.mayoclinicproceedings.org/article/S0025-6196(16)30321-4/pdf
Authors: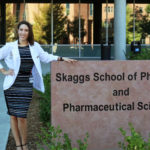 About Megan K. Fischer
Megan Fischer is a Doctor of Pharmacy student with University of Colorado Skaggs School of Pharmacy and Pharmaceutical Sciences. A student by day and a workhorse by night, Megan works as a student researcher at her school of pharmacy and as an intern pharmacist at Poudre Valley Hospital. She is an active member of the American College of Clinical Pharmacy (ACCP) and Industry Pharmacists Organization (IPhO). She graduated from University of Colorado at Boulder with a degree in Biochemistry and minored in Chemistry and Economics. Megan plans to work as a clinical pharmacist specializing in critical care or infectious disease after graduation. In her free time, she hikes and camps all the while trying to find moments for a nice nap.