Fitness for Life
#withDavida
If you take fitness classes you are probably familiar with the people who line up early for the class to get a certain spot and will give the evil eye to anyone trying to move in on their space. My fitness friend, Paula is one of them and has been claiming the same location since before I started teaching the 10:30am class at Club USA nine years ago. In fact that was her spot for three classes in a row on some days.  Impressive, considering she's a retired nurse and no longer a spring chicken. Plus she has atrial fibrillation, an irregular heartbeat, and is on her second pace maker.
One evening a few years ago she was home alone grilling when a clot traveled to her brain and she suffered a stroke. She fell to the concrete of her patio and lay there over night till she managed to muster the strength the next day to pull herself up and call for help.
Some skeptics shook their heads saying, "Look at all that exercise she does and still suffered a stroke". I pointed out that if she wasn't in such good shape she might not have survived laying on the cold ground over night, let alone eventually have the strength to get up and save herself.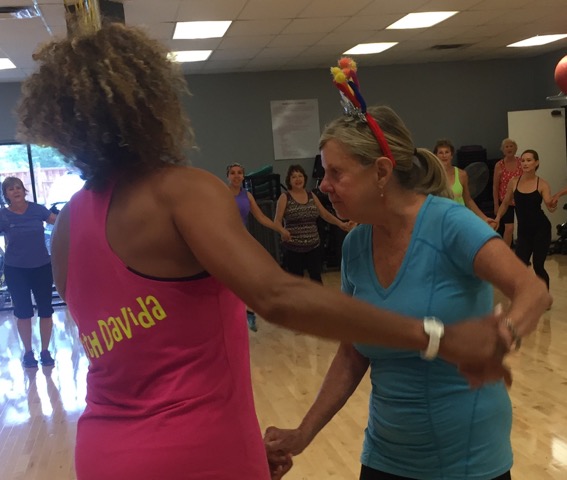 Atrial fibrillation or AF puts a person at a five times greater risk for stroke.
The irregular heartbeat can be inefficient in moving blood into the ventricles of the heart. Thus allowing blood to pool and clot. It's estimated about 20 percent of people who suffer stroke have atrial fibrillation
Symptoms for atrial fibrillation: 
General fatigue
Fast and irregular heartbeat
Dizziness
Fatigue when exercising
Chest pain or pressure (which can also be sign of a heart attack)
Consult your doctor with symptoms or concerns; call 911 if it is a medical emergency.
Paula's stroke slowed her down a little, although she doesn't notice it. Her recovery was surprisingly quick and she was back walking and then driving within weeks. It was five months before she reclaimed her spot in my Zumba class. Her steps were smaller but she was keeping in rhythm the whole hour.
"I'm a survivor", says Paula. "I try to be positive and just do it and keep moving. It just feels good."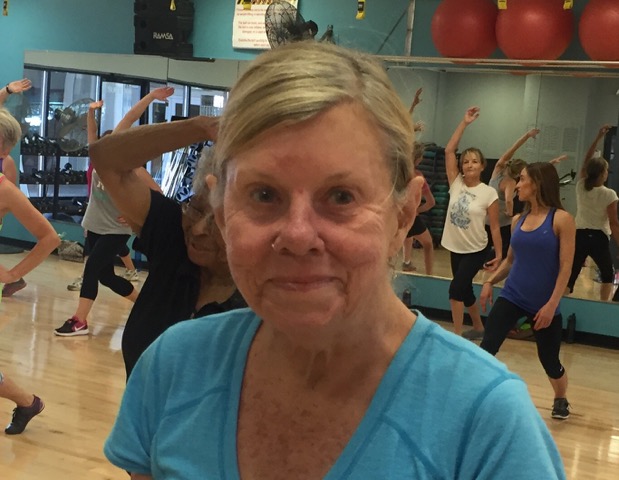 The good news is up to 80-percent of strokes can be prevented by living a heart healthy lifestyle. Of course that includes exercise. The American Heart Association (AHA) recommends at least 30 minutes of light to medium cardiovascular activity on most days of the week.  Check with your doctor before beginning exercise activity. For stroke survivors it's proven to be an important component to regaining motor control, improving cardiovascular health and preventing reoccurring strokes. 
Other recommendations to reduce risk of stroke are:
Heart Healthy diet
No excessive amounts of alcohol and caffeine
No smoking
Maintaining a healthy weight
Controlling blood pressure and cholesterol
More than two and a half million Americans are estimated to be living with atrial fibrillation The AHA warns untreated the risk of dying from a heart related cause or suffering a stroke increases four to five times.
Paula acknowledges it was a struggle returning to exercise at first but recommends to others to push through. She's back regularly attending classes and misses it only when she's traveling to places like San Diego or Africa. Paula is trying her best to do all of the right things and hoping to see her grandbabies go through school.
Resources for Atrial Fibrillation and Stroke:
https://www.nhlbi.nih.gov/health/health-topics/topics/af
http://www.mayoclinic.org/diseases-conditions/atrial-fibrillation/home/ovc-20164923
Exercise Recommendations for Stroke: http://www.heart.org/HEARTORG/Conditions/Arrhythmia/AboutArrhythmia/What-is-Atrial-Fibrillation-AFib-or-AF_UCM_423748_Article.jsp#.V3H_n1d5BFJ
http://www.ninds.nih.gov/disorders/stroke/stroke.htm
http://www.mayoclinic.org/diseases-conditions/stroke/home/ovc-20117264