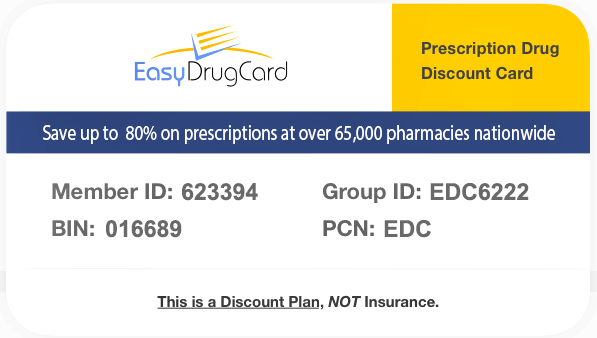 Walgreens Pharmacy Discounts
Looking for Walgreens Pharmacy Discounts? Look no further than Easy Drug Card for the best pharmacy discount card. With your Free Easy Drug Card you can easily save up to 80% on your prescription medication at Walgreens nationwide.
Your card is accepted at all Walgreens Pharmacy locations and never expires. Just show the Walgreens pharmacist your discount card for prescription coupons.
Walgreens is one of the oldest and largest pharmacy chains in the US today. Started in 1901 by Charles R. Walgreen, Sr., the first Walgreen's drugstore was located in Barrett's Hotel at Cottage Grove and Bowen Avenue on Chicago's South Side.
Today, Walgreens is the largest drug retailing chain in the United States with over 8,200 stores in all 50 states, the District of Columbia, Puerto Rico and the U.S. Virgin Islands. All Walgreens stores accept our prescription drug card.
The company employees over 250,000 and filled 856 million prescriptions in 2014. Walgreens has a convenient Healthcare clinic in many locations and accepts walk-ins, utilizes board-certified family nurse practitioners, and accepts most insurance.
Walgreens wants to be your healthcare store. It introduced its Well Experience store formats in 2011 to offer more integrated health and wellness products and solutions. Visitors can speak to a trusted pharmacist in a private consultation room to receive health services and answer any questions customers may have about their medications.
Get your Walgreens prescription discount card with EasyDrugCard today!
Save up to 80%
on your prescriptions
Get Your FREE Pre-Activated RX Discount Card INSTANTLY and begin using it immediately at 65,000+ participating pharmacies nationwide including most large chain stores like Walgreens, CVS, Rite-Aid as well as local neighborhood pharmacies.
List of Pharmacies
10 MINUTE PHARMACY
986 PHARMACY
986 SPECIALTY PHARMACY
ACARIAHEALTH PHARMACY
ACME PHARMACY
AHN PHARMACY
AJS UNITE DRUG
ALACO DISCOUNT PHARMACY
ALASKA MANAGED CARE PHARMACY
ALBERTSONS MARKET PHARMACY
ALBERTSONS PHARMACY
ALBERTSONS-SAFEWAY PHARMACY
ALEXANDER PHARMACY
ALH COMMUNITY PHARMACY
ALLCARE PHARMACY
ALOE DRUG MART
AMAZON PHARMACY
AMEX PHARMACY
AMIGOS PHARMACY
APOLLO PHARMACY
APPLE PHARMACY
ARBOR LANE PHARMACY
ARROW PRESCRIPTION CENTER
ASCENSION WI PHARMACY
ASCENSION WISCONSIN PHARMACY
AUBURN LTC
AUBURN LTC EUDORA
AVA DRUG
AZALEA HEALTH
BAKER'S PHARMACY
BARNES & WILLIAMS DRUG CENTER
BARNEY'S PHARMACY
BARTELL DRUGS
BASHAS UNITED DRUG
BAY AREA PHARMACY
BAYLOR SCOTT & WHITE PHARMACY
BECKLEY ARH PHARMACY
BEL AIR PHARMACY
BENEVERE SPECIALTY PHARMACY
BENSON DRUG COMPANY, INC. – SAV-MOR
BI-MART PHARMACY
BIG Y PHARMACY
BLUE RIDGE COMMUNITY HEALTH PHARMACY
BOARDWATER DRUG, POWERED BY WALGREENS
BROOKSHIRE BROTHERS PHARMACY
BROOKSHIRE PHARMACY
BROULIMS PHARMACY
BUDGET DRUGS
BURGESS DRUG STORE INC
BURNHAM DRUGS
BUY RITE DRUGS
BYPASS PHARMACY
BYRD WATSON DRUG
CAMC PHARMACY
CARE PLUS CVS/PHARMACY
CAREMAX PHARMACY
CAREPLUS
CARESTL HEALTH
CARLIE C'S PHARMACY
CARRS PHARMACY
CARTHAGE DISCOUNT DRUG
CASH WISE PHARMACY
CEDARS-SINAI MEDICAL CENTER PHARMACY
CENTER FOR FAMILIES AND CHILDREN PHARMACY
CHARLEY MCCOOL'S PHARMACY
CHERRY HILL PHARMACY
CHRONISCRIPT, A WALGREENS PHARMACY
CITIZEN PHARMACY
CITY MARKET
CITY MARKET PHARMACY
COBORNS PHARMACY
COCHRANE RIDENHOUR DRUG CO
COMMUNITY, A WALGREENS PHARMACY
CONVENIENT CARE PHARMACY
COOK CHILDREN'S PHARMACY
COOKE'S PHARMACY
COSTCO PHARMACY
COUNTRY MARKET PHARMACY
CUB PHARMACY
CVS PHARMACY
CVS/SPECIALTY
DANIEL'S PHARMACY
DANS DRUG
DAVIS FOOD AND DRUG
DEAN'S PHARMACY
DEANS DRUGS INC.
DEANS PHARMACY
DILLONS PHARMACY
DISCOUNT DRUG MART
DOCTOR'S ORDERS PHARMACY
DR IKE'S PHARMACY
DRUGTOWN PHARMACY
DUANE READE
DURST DISCOUNT DRUGS
EATON APOTHECARY
EFILLRX
EHARDTS PHARMACY
ELLIOTT PHARMACY
ENCOMPASS RX
EQUITAS HEALTH PHARMACY
EVERGREEN PHARMACY
EXPRESS PHARMACY
FAMILY DRUG MART
FAMILY FARE PHARMACY
FAMILY FRESH MARKET PHARMACY
FARMACIA BELMONTE
FARMACIA CARIDAD
FARMACIA EL BUEN PASTOR
FARMACIA GUAYABAL
FARMACIA JULIA DISCOUNT
FARMACIA LUIS
FARMACIA MEDINA
FARMACIA VAZQUEZ
FARMACIAS PLAZA
FARMACIAS SAVIA
FERGUSON DRUG
FIRST CHOICE PHARMACY
FIRST PHARMACY SERVICES
FLOYD'S FAMILY PHARMACY
FOBI COMPREHENSIVE PHARMACY
FOOD CITY PHARMACY
FOOD CITY UNITED DRUG
FOOD KING PHARMACY
FOODLAND PHARMACY
FRED MEYER PHARMACY
FRED'S PHARMACY
FRESH MARKET PHARMACY
FRIENDLY
FRUTH PHARMACY
FRY'S PHARMACY
FRYS PHARMACY
G & R HEALTH MART
GALLOWAY-SANDS PHARMACY
GENEVA WOODS MEDSET PHARMACY
GEROULD'S PHARMACY
GETWELL PHARMACY
GIANT EAGLE PHARMACY
GIANT PHARMACY
GIBRALTAR SAV-MOR PHARMACY
GILCHRIST PHARMACY
GOOD LIFE PHARMACY
GREAT CARE PHARMACY
GUIDEPOINT PHARMACY
HAGGEN PHARMACY
HALLS PHARMACY
HARBOR DRUG
HARMONS PHARMACY
HARPS PHARMACY
HARRIS TEETER
HARTIG DRUG CO
HEALTHPARTNERS PHARMACY
HEB PHARMACY
HIRONS DRUG
HOMETOWN PHARMACY
HOSKINS DRUG STORE
HSHS PHARMACY
HUDSON DRUG STORE
HY-VEE PHARMACY
IH RX4U STORE
IHS PHARMACY
INTERMOUNTAIN PHARMACY
JACKSON STREET DRUG, A MEDICINE SHOPPE PHARMACY
JAY C PHARMACY
JONES DRUGS
K-C DRUGS
KAREMORE PHARMACY
KAY PHARMACY
KILGORE EXPRESS PHARMACY
KIM PHARMACY
KING CASH SAVER PHARMACY
KING SOOPERS PHARMACY
KINNEY DRUGS
KJ PHARMACY
KK'S PHARMACY
KLEINS PHARMACY
KMART PHARMACY
KROGER PHARMACY
LADY OF THE SEA COMMUNITY PHARMACY
LAKE CUMBERLAND PHARMACY
LAKELAND PHARMACY
LATIMERS PHARMACY TIN RX
LEROY PHARMACY
LEWIS DRUG
LIN'S SUPERMARKETS INC
LINS PHARMACY
LONGS DRUGS
LOUIS MORGAN DRUGS
LOWERY DRUG MART
LUIS PHARMACY
MACEY'S PHARMACY
MARIANO'S PHARMACY
MARKET 32
MARKET STREET PHARMACY
MARKETPLACE PHARMACY
MARTIN'S PHARMACY
MASSEY DRUGS
MED-SAVE MARTIN,
MEDIC PHARMACY
MEDICAP PHARMACY
MEDICINE SHOPPE
MEDSTAR PHARMACY STORE
MEIJER PHARMACY
MERCURY PHARMACY
METRO MARKET PHARMACY
METSCRIPT PHARMACY
MILLENNIUM PHARMACY
MISSISSIPPI DISCOUNT DRUGS
MISSOULA FRESH MARKET PHARMACY
MR DISCOUNT DRUGS
MURPHY DRUG
NAVARRO DISCOUNT PHARMACY
NEEDLER'S FRESH MARKET PHARMACY
NEW HORIZON PHARMACY
NEWPOINTE PHARMACY
NOB HILL PHARMACY
NOLA DISCOUNT PHARMACY
NORTH FLORIDA PHARMACY
NORTH LAKE MEDICAL PHARMACY
NUCARA PHARMACY
OPEN GATE PHARMACY
OSCO DRUG
OWENS COMPOUNDING
OWENS PHARMACY
PARKWOOD PHARMACY
PAVILLIONS PHARMACY
PAYLESS PHARMACY
PEARSON DRUGS
PEOPLE'S PHARMACY
PHARMACY PLUS
PHARMAMAX
PHARMAX PHARMACY
PHIPPS PHARMACY
PICK N SAVE PHARMACY
PINE BROOK PHARMACY
PINE KNOB SAVMOR PHARMACY
PIONEER DRUG
PIONEER FAMILY PHARMACY
POLK'S DISCOUNT DRUGS
PORTERVILLE PHARMACY
PRESCRIPTIONS TO GEAUX
PRESTON TAYLOR PHARMACY
PRICE CHOPPER PHARMACY
PRIMECARE PHARMACY
PRO CARE PHARMACY
PROMEDICA SPECIALTY PHARMACY
PRUETT'S FOOD-PHARMACY
PUBLIX PHARMACY
PUEBLO PHARMACY
QFC PHARMACY
QFC WEST SEATTLE
QUEEN'S PRICE CHOPPER
RALEY'S PHARMACY
RALPH'S PHARMACY
RANDALLS PHARMACY
RECEPT PHARMACY
REDNER'S PHARMACY
RENUE RX
RETAIL LEWIS FAMILY DRUG
RIDLEY'S PHARMACY
RIESBECK'S PHARMACY
RISCH DRUG STORE
RITE AID
RITE-AWAY PHARMACY
RIVERSIDE SAV-MOR PHARMACY
ROGERS PHARMACY
ROSAUERS PHARMACY
RUSS'S PHARMACY
RX DISCOUNT PHARMACY
RXPERT
SAFEWAY PHARMACY
SALLYKAY PHARMACY
SANDHILLS MEDICAL PHARMACY
SAV-MOR
SAV-ON DRUG
SAVE MART PHARMACY
SAVON PHARMACY
SCHROEDER DRUGS
SEYMOUR PHARMACY
SHELDON'S EXPRESS PHARMACY
SHOPRITE PHARMACY
SHRIVERS PHARMACY
SMITH'S PHARMACY
SMP PHARMACY SOLUTIONS
SNYDERS DRUG
SOUTHLAND DRUGS
SPARROW PHARMACY PLUS
ST LUKE PHARMACY
STARR PHARMACY
STEPHENS PHARMACY
STERLING
STRAND, A WALGREENS PHARMACY
SUMMERS PHARMACY
SUNNY BAY PHARMACY
SUP-RX PHARMACY
SUPER 1 PHARMACY
SUPER SAVER PHARMACY
SUPRX PHARMACY
TDDC PHARMACY
TEJAS PHARMACY
THE CENTERS FOR FAMILIES AND CHILDREN PHARMACY
THE MEDICINE CABINET
THE MEDICINE SHOPPE
THE PILL BOX
THRIFTY WAY PHARMACY
THRIFTY WHITE PHARMACY
TIMES PHARMACY
TLC PHARMACY AND MEDICAL EQUIPMENT
TOM THUMB PHARMACY
TOTAL CARE PHARMACY
TOTAL PHARMACY CARE
TOWN & COUNTRY DRUGS
TRAN PHARMACY
TRAUBERTS PHARMACY INC
U SAVE IT PHARMACY
U SAVE PHARMACY
UNITED PHARMACY
USA DRUG
VALLEY CARE PHARMACY
VARIETY CARE PHARMACY
VCARE PHARMACY
VERMILLION'S DRUG
VILLAGE HEALTHMART DRUG
VM PHARMACY
VN PHARMACY
VONS PHARMACY
WALGREENS
WALDRON DRUG, POWERED BY WALGREENS