Download the Free EasyDrugCard Prescription Savings App | iPhone & Android
Enjoy instant savings at your local pharmacy on prescription medications with our Easy drug card savings program. Stop paying full price for prescriptions today. It's easy to get, easy to use, and easy to save with the Easy Drug Card app.
Since this program is NOT insurance there are no restrictions on lifestyle medications, birth control, erectile dysfunction or weight loss drugs, or any other prescriptions you need filled. You always get the best price.
Users can save up to 80% at their local pharmacy on prescription drugs.
Users can save up to 80% at their local pharmacy on prescription drugs. Whether you have insurance or not, our card provides savings for everyone. There are no restrictions or limits and everyone qualifies for our discount savings program. Start saving for the entire family today simply by presenting the card to your pharmacist the next time you need a prescription filled. It works like a coupon for all prescription drugs and does NOT expire. The card provides access to our discount pharmacy network of 65,000+ participating pharmacies nationwide including Walgreens, CVS, Rite-Aid, Walmart, Costco and more near you. The card is perfect for anyone that is uninsured or anyone with limits on their insurance drug benefits.
Fully featured app with everything you need:
Our app opens with a prescription discount card you can take to your pharmacy for immediate savings on your prescriptions. Users can navigate back to this page by selecting the "Easy Drug Card" button on the menu at the bottom of the screen. The card contains all the necessary information required by the pharmacy to process your discounts. The card contains a customer service number for users, as well as, a pharmacy help desk number for your pharmacist to call with any questions.
Our app also includes:
Convenient pharmacy locator and drug pricing tool to find the cheapest price for your prescriptions at a location near you. Simply enter your address, city or zip code, and then enter a drug name.
Drop-down list of drugs matching your entry. The app allows you to select the corresponding brand or generic for additional savings as well. Enter the drug quantity needed and our app will display the discounted prices at each pharmacy starting with the least expensive first. Add more drugs as needed to find the best price for your complete list of prescriptions.
Answers to frequently asked questions in an easy to use format. Simply find the question and then click on it for your answer. It's that easy. Use it just once and your pharmacy will store the discount card information in your profile at the store.
Stop paying full price for your prescriptions at your local pharmacy by using the Easy Drug Card app – you and your wallet will be glad you did. Start saving with Easy Drug Card now! This drug program is a discount plan and is NOT insurance and is not intended to replace insurance.

On a desktop? Scan this QR code to download the Easy Drug Card app & start saving on your prescription meds today!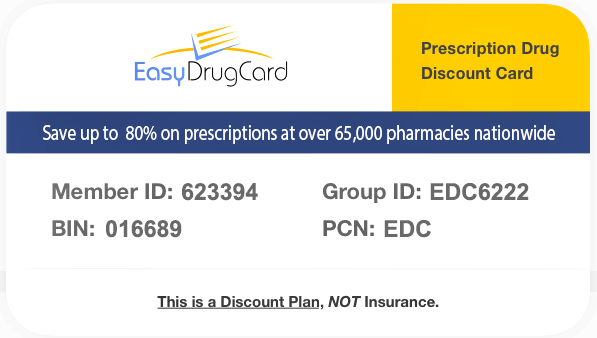 Free prescription discount drug card
In addition to discounts on your prescription drugs, you may be able to receive a discount on your over the counter medications such as vitamins or nasal spray.
Call 877-684-0032 for help.