Could THIS be a New Complementary Medicine for Integrative Health?
I was talking last week with one of our pharmacy students who is interested in complementary medicines, an area of therapeutics that recognizes integrative health approaches developed outside of mainstream Western, or conventional, medicine. Integrative health and medicine seeks to coordinate these complementary approaches with conventional treatments to improve patient care.
Then, over the weekend, I encountered what might be an example of a potential complementary therapeutic modality – – the Emerald City Supporters.
Grayson, my son-in-law, is a serious fan of the Seattle Sounders soccer team. He, my daughter and grandson visited us in Denver over what happened to be the weekend when the Seattle Sounders were playing the Colorado Rapids. They dressed me up as a Seattle Sounders fan, complete with an official green and blue fan scarf. We went to the game early so we could meet up with the Emerald City Supporters, or ECS, the Seattle Sounders fan group. I was fascinated by watching the fans as much as by the soccer game.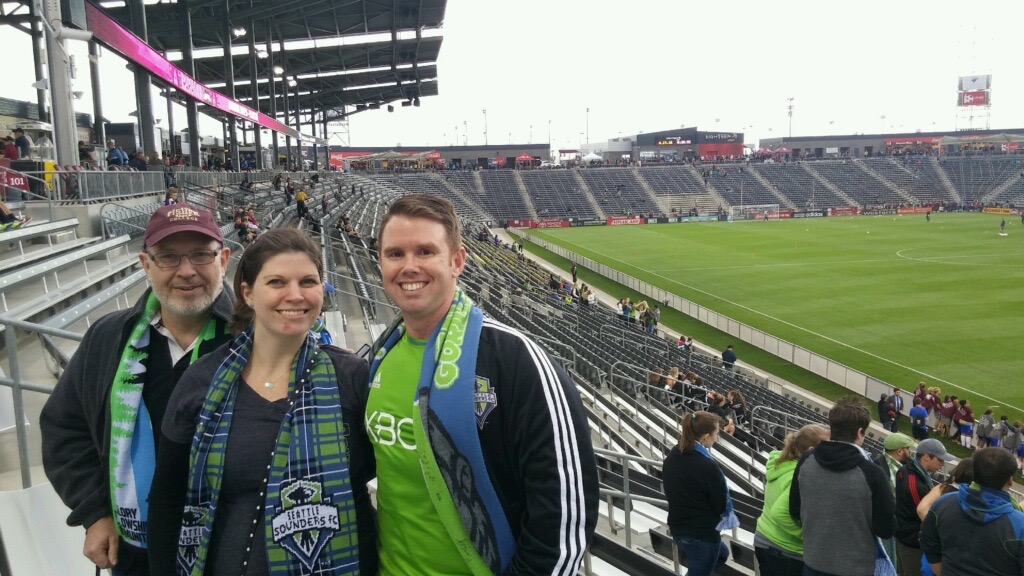 We met the ECS group outside the stadium during the tailgate time prior to the game – a little beer and a lot of fan talk about which players would make it to the game. A couple of key players were likely to be missing. Then we marched into the stadium singing a collection of fan songs set to some traditional tunes.
To the tune of "Yellow Submarine" we sang "Seattle Sounders here we go. Here we go. Here we go." There were flags; there was a big bass drum; there were song cards for those who did not know the words. We sang and jumped up and down for the entire game, and then some. Individuals within the group coordinated the section with bullhorns. Every so many rows, someone would stand on their seat and turn around to lead those further up the stands. A few rows ahead, a fan named Sarah – a true fan has Sounders tattoos – was leading us and barely got to watch any of the game.
Each time the Rapids scored, we sang our team songs and cheered for Seattle. And when Seattle finally scored – which only happened once later in the game – we sang our team songs and cheered for Seattle. The outcome of the game did not appear to matter. We cheered some more for Seattle after the game ended while the Rapids fans left the stadium. 
"When it's us versus them, you can always count on me. 
  When it's us versus them, it's a Sounders unity!"
The Sounders were defeated, but not the Sounders fans. They left with a dose of fellowship and fun. It was less about winning and more about the struggle, being with friends, and keeping the faith. I've not seen anything like it.
The National Center for Complementary and Integrative Health studies which complementary medicine approaches are most popular among adults.
The most recent list (2012) includes the top ten complementary health approaches:
natural products,

chiropractic,

massage,

homeopathy,

progressive relaxation and guided imagery.
I propose a new complementary medicine and integrative health modality:
getting together with friends (whom you may not even know yet),

cheering for a team (for which you may have no connection),

and singing songs (even though you may not know the words).

Jumping up and down can be optional.
It might surprise you how good it feels. I hope your team even wins.

 

Take care of yourself.
Emerald City Supporters
NIH National Center for Complementary and Integrative Health